Our objective is to design and build show boards to be displayed at car shows and auctions. To properly secure your signage, we also provide our specially designed, heavy-duty display stand.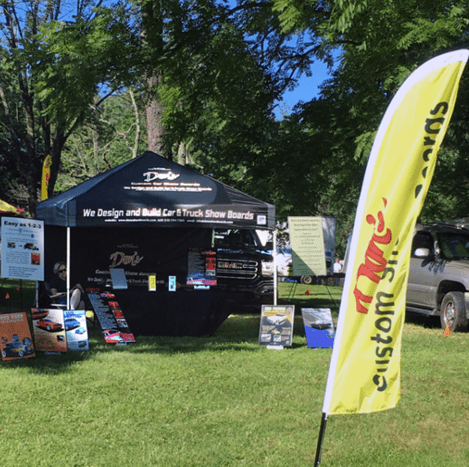 Attract potential buyers to take a closer look at your car displays on your upcoming auto show or auction! We create show boards that will surely make your booth stand out.
Show boards are not only meant to display certain information about the car you offer. They should also embody your professionalism and reliability. If you need eye-catching show boards for your next auction, trust only the experts at Don's ShowBoards LLC. Check out our prices here.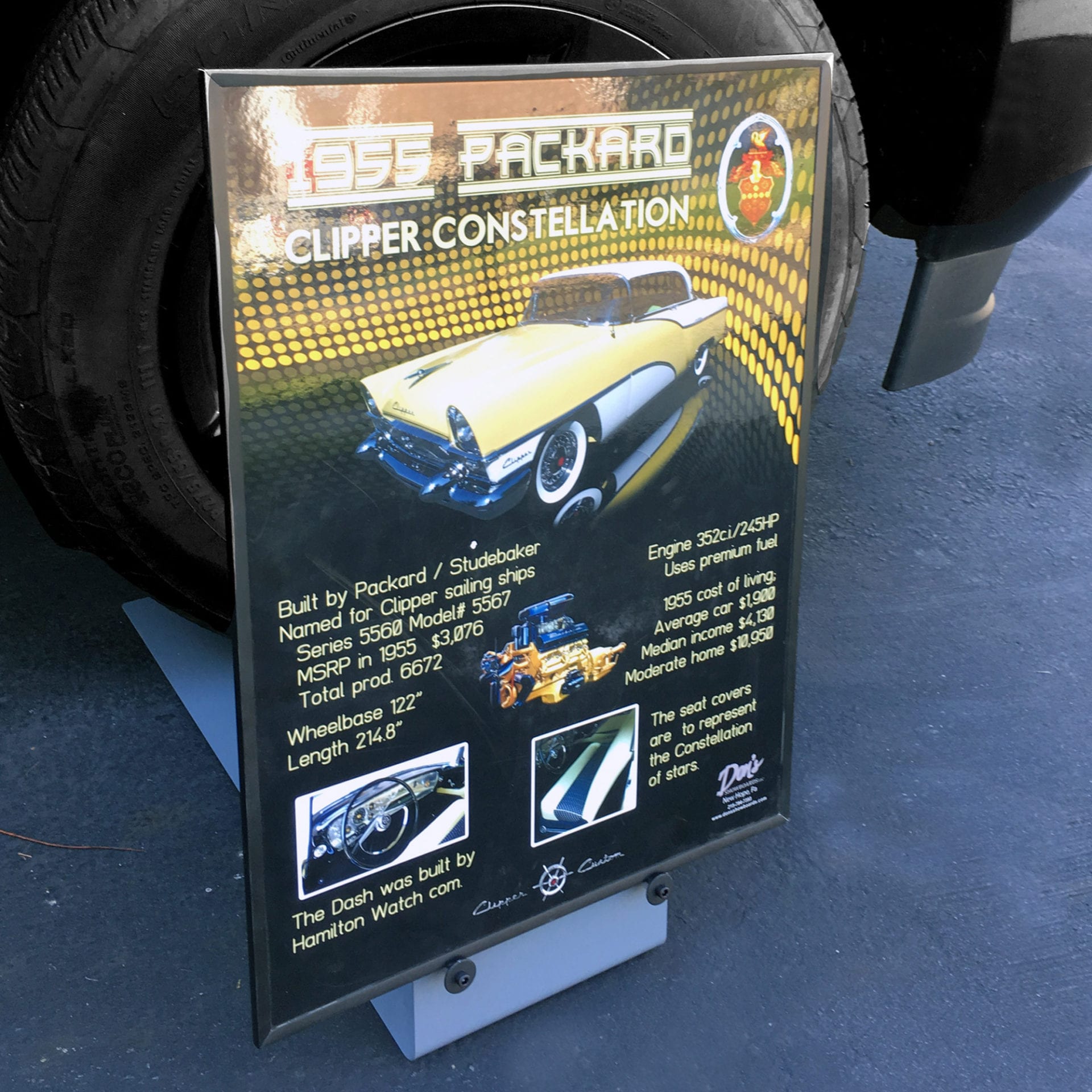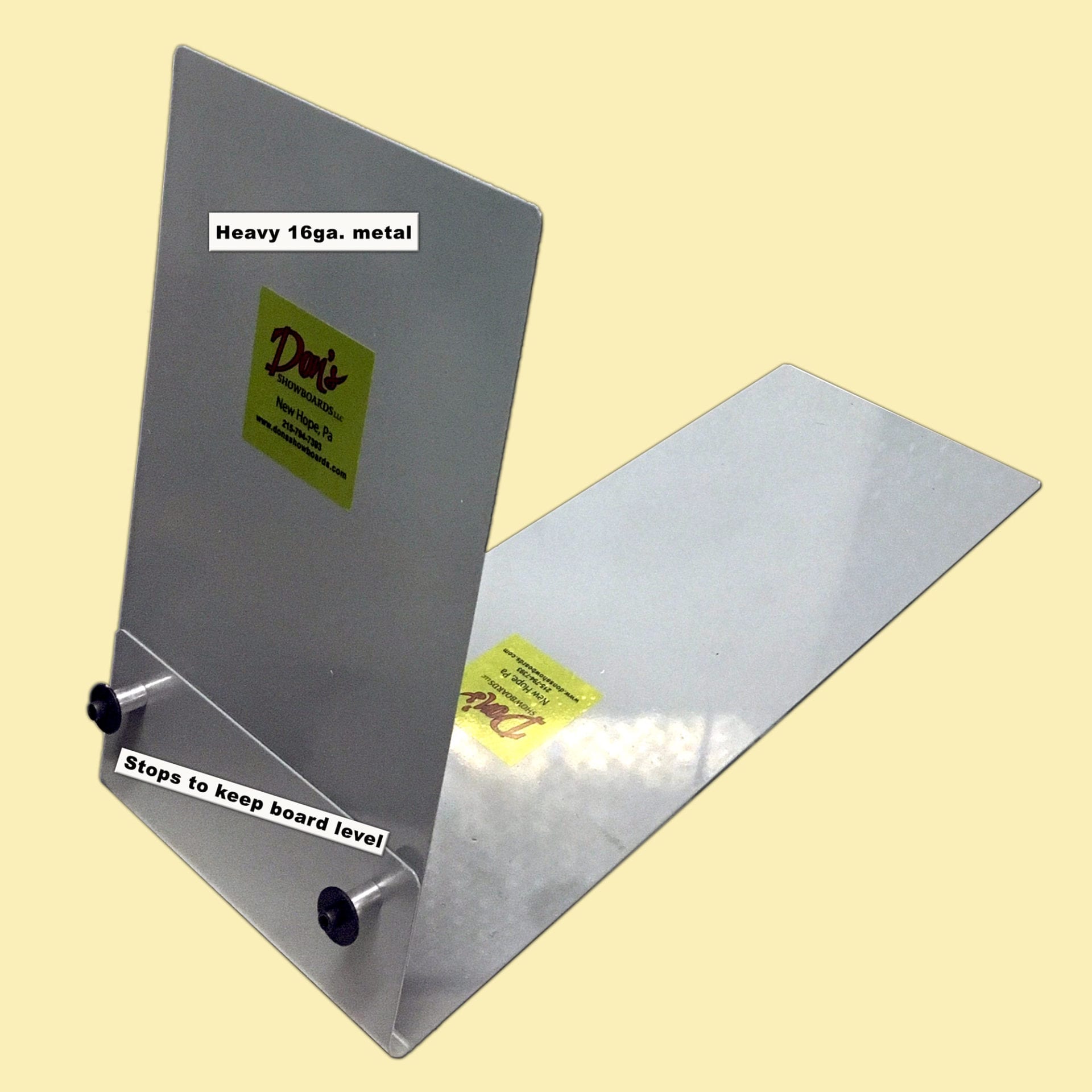 We are the only one's to provide a Heavy Duty Metal Stand to Display your Show Board.
Just place the car tire on top of the Metal Stand and don't worry about your sign flying away.
Watch video below
Don,
Received the showboard and stand yesterday, everything looks excellent, the show board turned out beautifully.
Thank you so much, very pleased.
Kevin Colgan
Thank you. She's been in 3 shows so far this year and yesterday. She came home with Her 3rd trophy. A LOT of people were admiring the sign. THANK YOU again!
Don, I just received the showboard today along with the stand and posters. The showboard is everything you advertised it would be and so much more!! Awesome job!! As you know, we worked through a couple of changes to the artwork as the job progressed, but you satisfied my requirements and went way beyond my initial request with some great ideas. I was just studying some of the detail work you did and cannot find any flaws anywhere. Your attention to detail is second to none. I have always said. - Dick Stoebel, Manchester, CT
Hi Don Just returned from Barrett Jackson and wanted to thank you for all you've done. Your showboards worked great...they got a lot of attention (especially for my car). The stands were a perfect size and held the boards perfectly and at a great height. I did see some of your showboards there.....they also looked good. The post cards were a huge success. I can't believe I went through over 600 cards. Everyone wanted to know where they could get them, I gave them your info...a lot! Some guys. - Joe (Kid) Curry
Thank you very much for helping me out on the sign, I appreciate the help on such short notice & will be referring any friends I have looking for a great sign to you.
Thanks again,
James C.
Don,
I've been to three shows since you completed my 69  GTO Judge showboard. People love it. I am so glad I chose Don's Snowboards for my Judge. I have seen some very nice showboards, but also some simple, cheesy ones too. My showboard is top notch and people at every show give me positive feedback.
Thank you for providing such and outstanding product!! You get 5 STARS
Bruce B.
Don
I'm so thrilled I found your website."You're the Man"! My showboard turned out EXACTLY as you say in your Video. Phenomenal workmanship! Also an amazing and honest person to deal with.
Thank you very much.
Jerry Salvucci, Hudson, Ohio