Frequently Asked Questions About Our Show Boards
It's very easy to get the ball rolling.
STEP ONE - Send us an Email 

[email protected]

containing info on the car, your name, your shipping address and tel#.  or call us  (215) 620-6142.
STEP TWO - Email us digital photos of your car. If your files are large (which make for better images) we can send you a Dropbox link. (very easy to use)
STEP THREE - We'll design a rough draft and email it to you. After looking it over, tell us what changes you would like. The editing process is included in the package price, there is no limit to the number of times we'll edit it.
STEP FOUR - Only after you're completely satisfied with the design and give us the okay to send it into production is when we ask for payment.
TEXT
No limit on the amount of text. When trying to decide what info to send keep in mind that the more text on the board the less likely people will read it. Keep it brief, unless you have a specific audience such as Conours, NCRS judges or auctions like Mecum & Barrett Jackson where more details are necessary. Visit my gallery to get an idea as to what information is usually found on showboards.
PHOTOS
No limit on the number of photos. When sending photos the most important thing to remember is to set your camera to it's highest quality and largest size setting. I have a page called Camera Tips dedicated to helping you take good pictures of your car, there's a lot of good information there.
OUR STANDS
We build our own stands out of 1/16′ Metal, painted with a durable Finish, for details click here. We are the only place you can find this stand. View the video on our home page for more info.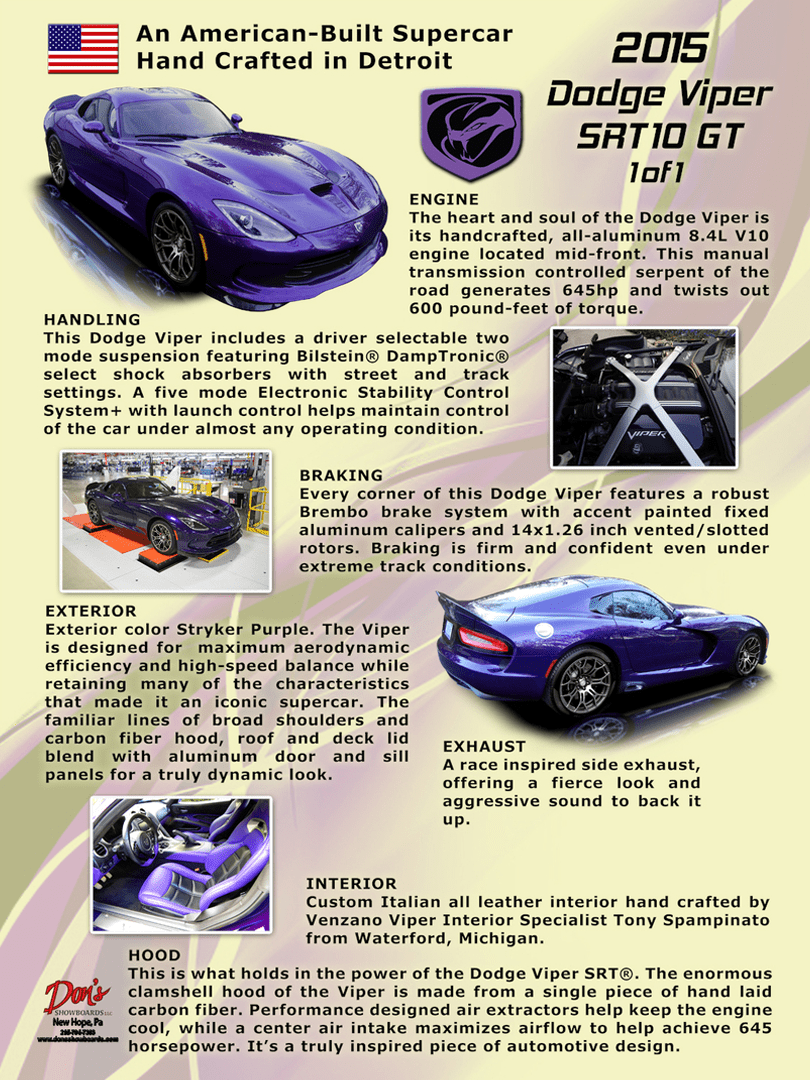 FREE POSTER
Is also included with all inclusive package. We include a poster which is an exact duplicate of your showboard, this poster is suitable for indoor display.
TURNAROUND TIME
Depending on the amount of editing needed we can get most boards shipped within 2 weeks of receiving usable photos.
EVERYTHING IN-HOUSE
We do everything in-house:
• design
• printing
• laminating
• trimming
• manufacturing the stands
• shipping
That was not our original plan at Don's, we planned to do the design work then send it out but we quickly found that the only way we could maintain high quality was to to do the entire process ourselves. So we do!